HSI2019—5th Hitotsubashi Summer Institute – Directions
Directions
The closest st. to the venue Hitotsubashi University is JR Kunitachi st. Unfortunately, the nearest accommodation is around Tachikawa st., which is next stop of Kunitachi st.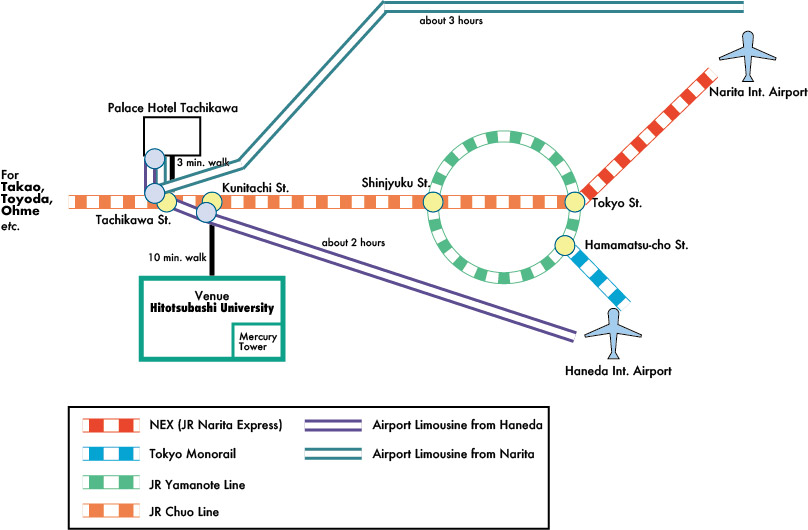 N'EX
All seats are reserved. Please purchase reserved seat limited express ticket to Tokyo st. or to Shinjyuku st. in addition to basic fare ticket to your final destination, Kunitachi st. (venue) or Tachikawa st. (accommodation). For further detail, please check this page.
Tokyo Monorail
It's running almost every 4 min. in average. You can purchase a ticket to final destination, Kunitachi st. (venue) or Tachikawa st. (accommodation) at the airport by touching "Transfer Ticket" on the initial screen of the ticket machine and then "JR LINE". For further information, please check here.
JR Yamanote Line
It's a circular railway.
JR Chuo Line
We can choose from local train, rapid train and special rapid train. Be careful that special rapid train stops at Tachikawa st. (accommodation), but does not stop at Kunitachi st. (venue). If you take special rapid train from Tokyo or Shinjyuku st., please transfer at Kokubunji st. following English announcement in the train.
Campus Map of Hitotsubashi University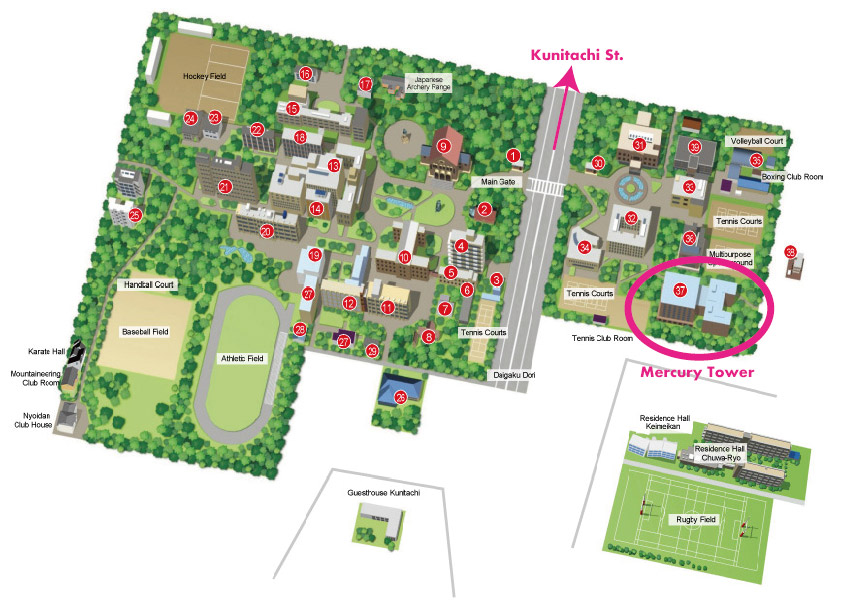 Palace Hotel Tachikawa
Tachikawa st. and the hotel is connected with Pedestrian deck. It's about 3 min. walk.
In front of the hotel, there is a bus stop of Airport Limousine from Narita and Haneda Int. airport.
Address: 2-40-15, Akebono-cho, Tachikawa-shi, Tokyo 190-0012 Japan
Phone: +81 (0)42 527 1111
Access map is here.